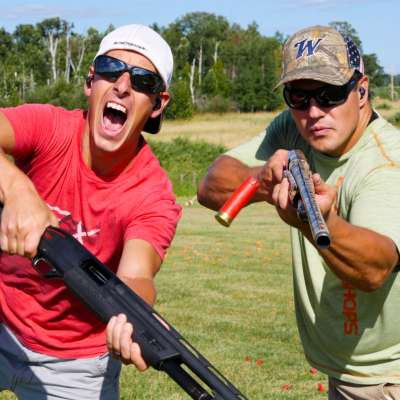 How Many Watermelons will a Crossbow Shoot Through? | Gould Brothers
204 Views
After shooting the Ravin R15 for Crossbow Trick Shots and Crossbow Brother Battle, we knew it had incredible power, but we could help but wonder, how many watermelons would it shoot through.

After shooting a bolt through we wanted to know how that would compare to a .223 rifle so we gave that a try.

We had only planned to shoot the watermelon but we were having too much fun and we were curious, how many clay targets would the Ravin R15 shoot through? The results of both the watermelon and clays surprised us, how about you?

Ravin Crossbows
►CLICK HERE to buy a Ravin R15 http://bit.ly/RavinR15BPS


Watch our other Crossbow Videos
►WATCH: Crossbow Trick Shots http://bit.ly/CrossbowTrickShotsYT
►WATCH: World's Longest Accurate Crossbow Shot http://bit.ly/WorldRecordCrossbowShotYT
►WATCH: Brother Battle: Who's the Better Shot with a Crossbow http://bit.ly/CrossbowHowManyYT

We're so much cooler online, JOIN US!
► Youtube (New video every week!) http://bit.ly/SubGouldBrosYT
► Gould Bros. IG http://bit.ly/GouldBrothersInstagram
► Aaron's IG http://bit.ly/AarongIG
► Steve's IG http://bit.ly/StevegIG
► Facebook http://bit.ly/GouldBrothersFacebook

🎉 Make your next event AWESOME 🎉
► with a Live Exhibition Shooting Show! http://bit.ly/BooktheBros

OTHER PRODUCTS WE USE👇

🔫 Shoot our AR Rifles
Alex Pro Firearms

🔭 Scopes | Range Finders | Spotting Scopes | Binoculars
Vortex Optics http://bit.ly/VortexOpticsBPS

Shoot our Crossbow 🏹
Ravin R15 http://bit.ly/RavinR15BPS

🔫 Shoot our Shotguns:
SX4 | SX3 Sporting | LongBeard | SXP (pump)

Great shots require great ammo
Clay Shooting: Winchester AA
Waterfowl: Blindside
Turkey: LongBeard XR
Pheasant: Rooster XR
Predators: VarmintX
Deer: Deer Season XP
Big Game & Long Range: Expedition Big Game

Make your firearm 👆 of a kind with a custom 🎨 paint job.
DeadEye Liquid Graphics http://bit.ly/DeadEyeLG

Bust more clays and bag more birds with great choke tubes.
Trulock Choke Tubes http://bit.ly/TrulockChokes

If you want to hear while wearing ear👂protection, WildEar!
10% OFF custom molded ear pro with "Gould10"
WildEar http://bit.ly/WildEarPro

You only got one set of eyes 👀, keep 'em protected 😎
25% OFF all ESS ballistic eyewear with "GBX25"
ESS Eye Pro http://bit.ly/ESSEyePro

Sometimes you just need to blow something up 💥💥💥
Sonic Boom Exploding Targets http://bit.ly/SonicBoomRimfireBP

Nutrition is one of the keys to peak performance 💪 and we use MTN OPS to keep us going strong.
MTN OPS http://bit.ly/MTNOPS

If you love shooting clays like we do, you'll love shooting off a high-quality trap machine. PULL!
Promatic Traps http://bit.ly/PromaticTraps

Relieve some stress and bust some clay targets:
White Flyer http://bit.ly/WhiteFlyer-BassPro

Thanks for watching, we hope you enjoyed.

Now pull that trigger and SHOOT for your DREAMS

The Gould Bros.
Show more