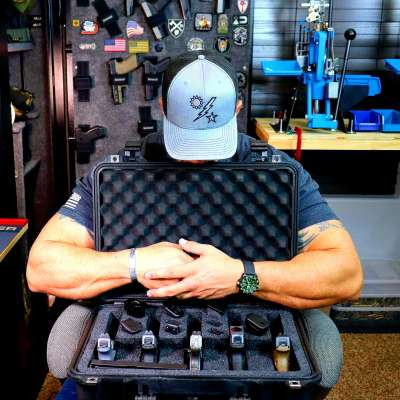 Mossberg MC2c Optic Ready Review
194 Views
Each time bring a Mossberg pistol out people seem to be surprised they did not know Mossberg was making some nice compact and sub compact pistols. This new variation of the MC2c is the optic ready version with a deep cut so yo can still use your factory sights. This will be a 14 or 16 +1 design and you can carry it all day with its thin, light profile. I have tested 3 of these all have functioned flawlessly and perform quite well. The recoil is pretty flat, fast and the grip texture is great. To this day Mossberg is family owned and still producing quality products after 100 years of business.

All filming done in a safe manner on a bonafide public range under the supervision of licensed professionals featuring legal items only.

Build List And Links ► https://bit.ly/3CFeaQW

Patreon ►https://bit.ly/2JTBCBj
Shirts/Hats TriStar Trading ► https://bit.ly/35lI6TF
Blackout Coffee 10% off Code TC10 ► https://bit.ly/3cy5Vct

Email List Sign Up! https://bit.ly/3umhue8

~~~~My Amazon Top 50~~~~
► https://amzn.to/2WIw3da


~~~~~Favorite EDC Gear~~~~~

Kizer Sheep Dog Knife
https://amzn.to/3hpRMzP
Streamlight Micro Light
https://amzn.to/2SqiiNg
Wallet Popov Leather Coupon ►TCONS◄ 15% Off
https://bit.ly/2V66u2Z

***Live The Creed Medical Kits***

Pocket Trauma Kit ► https://bit.ly/3HzHmJr
LTC Full Kit ► https://bit.ly/3DDkd6q
Belt Mount Kit ► https://bit.ly/3DPXNyz


~~~~Camera Gear I use~~~~

Canon R6 https://amzn.to/3ujq9MQ
Main Lens RF 24-105 F/4L https://amzn.to/2R8zSav
Canon RF 50mm https://amzn.to/2PTDxbx
Manfrotto Tripod https://amzn.to/3fERkO7


~~~For Mail Call~~~
Tactical Considerations
P.O. Box 1133
Queen Creek, AZ 85142



#tacticalconsiderations

** Affiliate disclaimer:
We keep Tactical Considerations going in part with viewer support in the way of paid links/affiliate links. Some of the above links maybe affiliate links, which may generate me a sales commission. For example, Camera Gear I Use listed above is in association with the Amazon affiliate program and I'm an amazon associate.. "

These videos are for entertainment purposes only and free to watch. All actions performed in these videos are under the supervision of a trained/licensed professional. Tactical Considerations nor any of the companies are responsible for any injuries or damages caused to you or your firearm that may result from attempting to recreate the actions made is these videos. Do not try this at home.

Fair Use: In the rare instance I include someone else's footage it is covered in Fair Use for Documentary and Educational purposes with intention of driving commentary and allowing freedom of speech.
Show more