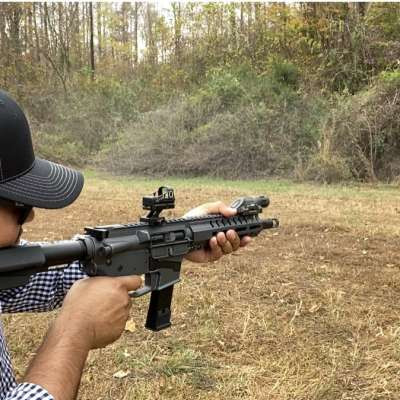 SMS2 mini sight 2.0 | SHIELD SIGHTS
87 Views
Check out all Shield Sights products here: https://bit.ly/3pLzDjr

Check out OFF the X training solutions channel here: https://youtube.com/channel/UC....FNMKHJi8cKo_--s1ymef

The Shield Mini Sight 2 (SMS2) is the all-new version of our famous original mini-sight. Version 2 comes with an all-new design made from a stronger glass-filled nylon polymer and an improved lens with Si02 Quartz hard coating for extra resilience to the daily wear and tear of shooting.
OPTICAL CHARACTERISTICS
Light Source: Red light emitting diode (LED) No laser; completely eye safe No radioactive materials
Red Dot Size Options: 4 MOA dot 8 MOA dot
Lens: Reflex x1 (no magnification)
Lens Coating: New Hard Coating, Anti-reflection No coloured coating, minimises visible signature
ELECTRONICS
Battery: One 3V lithium battery, CR2032
Battery Life: 2 to 3 years "" average use 4 years "" dark storage
Brightness Adjustment: Automatic
Brightness Range: Lowest "" Compatible with Night Vision: Highest "" Visible against the sky in bright daylight
Battery Fitting: Underneath.
EXTERIOR
Housing material: Nylon Glass Filled Polymer
Colour: Matte black
Dimensions: Sight only (Length x width x height) 42 x 23 x 22 mm 1.7 x 1.0 x 0.9 inches
Weight: 17.50 grams / 0.617 ounces inc Battery

Want to save money and grab some deals, click on the links for multiple savings on amazing companies! CLICK HERE ~~~ linktr.ee/Carolinaedcreviews
*************Discount codes*****************
SAFARILAND HOLSTERS - "CORE10CAROLINAEDC"
MYMEDIC - "CAROLINAEDC"
TACPACK - "CAROLINAEDC"
KORE ESSENTIALS - "CAROLINAEDC10"
PREMIER BODY ARMOR - "JOHNN24"
WILDER TACTICAL - "JOHNN35"
ARC DIVISION - "CAROLINAEDC"
CLASSIC RAPTOR TACTICAL- "CAROLINAEDC"
BLACKLIST INDUSTRIES - "CAROLINAEDC"
ARMASPEC - "CAROLINAEDC"
PHASE5 SYSTEMS - "CarEDC"
XS SIGHTS - "CAROLINAEDC"
SWAMPFOX OPTICS - "CAROLINAOPTIC"
FRANKLIN ARMORY - "CAROLINAEDC"
****************************************************************************
Follow me on Parler:
@Carolinaedcreviews
Follow me on TikTok:
@carolinaedcreviews
Follow me on Instagram:
@carolinaedc_reviews
Follow me on Twitter:
@CarolinaEDC_R
Facebook :
https://www.facebook.com/CarolinaEDCReview/

#sgieldsights #SMS2 #carolinaedcreview

DISCLAIMER: my videos are strictly for documentary, educational, and entertainment purposes only. Imitation or the use of any acts depicted in these videos is solely AT YOUR OWN RISK. All work on firearms should be carried out by a licensed individual and all state and federal rules apply to such. I (including YouTube) will not be held liable for any injury to yourself or damage to your firearms resulting from attempting anything shown in any our videos. I do not endorse any specific product and this video is not an attempt to sell you a good or service. I am not a gun store and DO NOT sell or deal in firearms. Such a practice is heavily regulated and subject to applicable laws. We DO NOT sell parts, magazines, or firearms. These videos are free to watch and if anyone attempts to charge for this video notify us immediately. By viewing or flagging this video you are acknowledging the above.
Show more