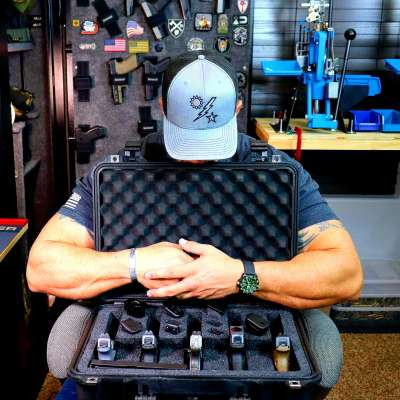 Springfield 2020 Waypoint Bolt Action Back To Long Range
135 Views
The Springfield Armory model 2020 Waypoint Rifle is the latest bolt action offering from Springfield Armory. This is guaranteed by them to have .75 moa accuracy or better at 100 yards. This is the 6.5 creedmoor version but they have 308, 6 arc and others available. They have carbon fiber barreled version as well as fluted stainless or cerakote versions. The rifle is a flat out tack driver once you get your optic mounted on the top of the included rail hovering over the action based on the Remington 700. The adjustable trigger tech trigger goes from 2.5 to 5 pounds so you can ensure solid hits for range work or hunting.

Build List And Links ► https://bit.ly/3jtXdyf

Patreon ►https://bit.ly/2JTBCBj
Shirts/Hats TriStar Trading ► https://bit.ly/35lI6TF
Blackout Coffee 10% off Code TC10 ► https://bit.ly/3cy5Vct

Email List Sign Up! https://bit.ly/3umhue8

~~~Other Videos~~~
Crimson Hardline https://youtu.be/0x4HOCpOwJ8
Riton LPVO https://youtu.be/wG8289gnTk4
Swmapfox Arrowhead LPVO https://youtu.be/Kjv1fAoGTOE

~~~~My Amazon Top 50~~~~
► https://amzn.to/2WIw3da


~~~~~Favorite EDC Gear~~~~~

Kizer Sheep Dog Knife
https://amzn.to/3hpRMzP

Streamlight Micro Light
https://amzn.to/2SqiiNg

Wallet Popov Leather Coupon ►TCONS◄ 15% Off
https://bit.ly/2V66u2Z

***Live The Creed Medical Kits***

Pocket Trauma Kit ► https://bit.ly/3HzHmJr
LTC Full Kit ► https://bit.ly/3DDkd6q
Belt Mount Kit ► https://bit.ly/3DPXNyz


~~~~Camera Gear I use~~~~

Canon R6 https://amzn.to/3ujq9MQ
Main Lens RF 24-105 F/4L https://amzn.to/2R8zSav
Canon RF 50mm https://amzn.to/2PTDxbx
Manfrotto Tripod https://amzn.to/3fERkO7




~~~For Mail Call~~~
Tactical Considerations
P.O. Box 1133
Queen Creek, AZ 85142



#tacticalconsiderations


** Affiliate disclaimer:
We keep Tactical Considerations going in part with viewer support in the way of paid links/affiliate links. Some of the above links maybe affiliate links, which may generate me a sales commission. For example, Camera Gear I Use listed above is in association with the Amazon affiliate program and I'm an amazon associate.. "

These videos are for entertainment purposes only and free to watch. All actions performed in these videos are under the supervision of a trained/licensed professional. Tactical Considerations nor any of the companies are responsible for any injuries or damages caused to you or your firearm that may result from attempting to recreate the actions made is these videos. Do not try this at home.

Fair Use: In the rare instance I include someone else's footage it is covered in Fair Use for Documentary and Educational purposes with intention of driving commentary and allowing freedom of speech.
Show more