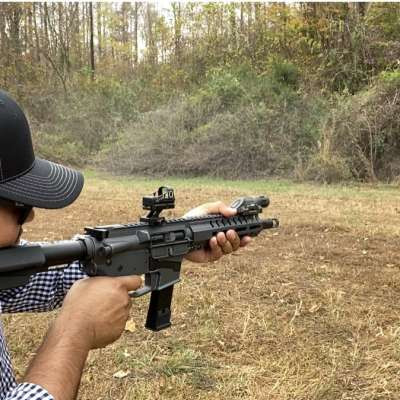 Tactical Air Purifying SafetyRespirator Mask | MIRA Safety TAPR
55 Views
Grab some gas mask here from MIRA Safety : https://bit.ly/3H9Yy88
The Tactical Air-Purifying Respirator (TAPR) is the first EN-140 certified half-face respirator mask specifically designed for special operations, security actions, and rescue teams. Originally developed to suit the needs of the Czech Special Forces, the TAPR is designed to provide flexible, versatile protection for even the most challenging tactical situations.

KEY FEATURES OF THE TAPR RESPIRATOR MASK:
Innovative, shooter-friendly design proven by active duty military
Uses widely available NATO-standard, 40-mm filter cartridges
Custom mesh head harness for standalone use
Optional FidLock buckle system for rapid deployment with helmets that use the popular ARC rail or M-LOK system
Compatible with popular riot control helmet systems, including MSA Gallet and Schuberth riot control helmets
Compatible with a wide variety of protective goggles, shields, and face masks
Comes with a hardened travel case
Ultralight construction (just over 4 oz. without filter)
Built from high-quality sanitary silicone rubber
Anatomical design and unique harness system provide true one-size-fits-all protection
Compatible with our proprietary MIRA Gas Mask Microphone (sold separately)
Ideal for use with one of three compact gas mask filters (P-CAN Compact, Particlemax P3 Compact, and NBC-17 SOF)
Dual exhalation valves for easy breathing during long hours of use
Can be cleaned with common disinfectants for regular/repeated use
The mask body has a 20-year shelf-life while the head harness and valves have a shelf-life of 10 years and 5 years respectively
Carries MIRA Safety's 1-year manufacturer warranty

Want to save money and grab some deals, click on the links for multiple savings on amazing companies! CLICK HERE ~~~ linktr.ee/Carolinaedcreviews
************************************************************************************
This video and description contains affiliate links, which means that if you click on one of the product links, we'll receive a small commission.

*************Discount codes*****************
SAFARILAND HOLSTERS - "CORE10CAROLINAEDC"
MYMEDIC - "CAROLINAEDC"
TACPACK - "CAROLINAEDC"
KORE ESSENTIALS - "CAROLINAEDC10"
PREMIER BODY ARMOR - "JOHNN24"
WILDER TACTICAL - "JOHNN35"
ARC DIVISION - "CAROLINAEDC"
CLASSIC RAPTOR TACTICAL- "CAROLINAEDC"
BLACKLIST INDUSTRIES - "CAROLINAEDC"
ARMASPEC - "CAROLINAEDC"
PHASE5 SYSTEMS - "CarEDC"
XS SIGHTS - "CAROLINAEDC"
SWAMPFOX OPTICS - "CAROLINAOPTIC"
FRANKLIN ARMORY - "CAROLINAEDC"

************************************************************************************
Follow me on Parler:
@Carolinaedcreviews
Follow me on TikTok:
@carolinaedcreviews
Follow me on Instagram:
@carolinaedc_reviews
Follow me on Twitter:
@CarolinaEDC_R
Facebook :
https://www.facebook.com/CarolinaEDCReview/

#carolinaedcreview
***************************************************************************************
DISCLAIMER: my videos are strictly for documentary, educational, and entertainment purposes only. Imitation or the use of any acts depicted in these videos is solely AT YOUR OWN RISK. All work on firearms should be carried out by a licensed individual and all state and federal rules apply to such. I (including YouTube) will not be held liable for any injury to yourself or damage to your firearms resulting from attempting anything shown in any our videos. I do not endorse any specific product and this video is not an attempt to sell you a good or service. I am not a gun store and DO NOT sell or deal in firearms. Such a practice is heavily regulated and subject to applicable laws. We DO NOT sell parts, magazines, or firearms. These videos are free to watch and if anyone attempts to charge for this video notify us immediately. By viewing or flagging this video you are acknowledging the above.
Show more