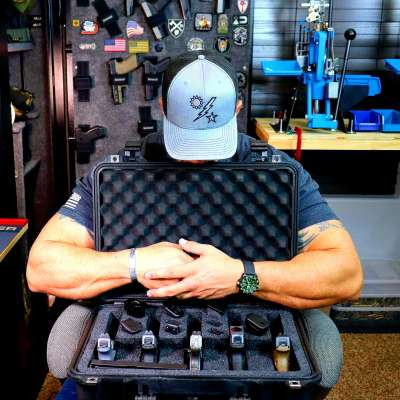 Taurus G3 Best Budget Pistol Well Over 1k But Did It Break?
63 Views
The G3 from Taurus is their full sized offering. It is a sub $300 pistol depending on where you find it that has proven to be reliable. It only comes with 2 mags which is a bummer since one is 17 rounds and the other is 15. The coating wears pretty quick and its not he most precisely machined pistol but at the price I am not sure we can expect more from the G3.

Build And Links ► http://bit.ly/2Wybyjn

Patreon ►https://bit.ly/2JTBCBj

Shirts/Patches SNC Store ► https://bit.ly/3aFdCN6

Blackout Coffee 10% off Code TC10 ► https://bit.ly/3cy5Vct

Self Defense Liability Protection And Training USCCA
► https://bit.ly/3cGj8Qt


~~~~Camera Gear I use~~~~
Canon R6 https://amzn.to/3ujq9MQ
Main Lens RF 24-105 F/4L https://amzn.to/2R8zSav
Canon RF 50mm https://amzn.to/2PTDxbx
Manfrotto Tripod https://amzn.to/3fERkO7

~~~~My Amazon Store~~~~
► https://amzn.to/2WIw3da


~~~For Mail Call~~~
Tactical Considerations
P.O. Box 1133
Queen Creek, AZ 85142



#tacticalconsiderations
#taurus
#freedom


** Affiliate disclaimer:
We keep Tactical Considerations going in part with viewer support in the way of paid links/affiliate links. Some of the above links maybe affiliate links, which may generate me a sales commission. For example, Camera Gear I Use listed above is in association with the Amazon affiliate program and I'm an amazon associate.. "

These videos are for entertainment purposes only and free to watch. All actions performed in these videos are under the supervision of a trained/licensed professional. Tactical Considerations nor any of the companies are responsible for any injuries or damages caused to you or your firearm that may result from attempting to recreate the actions made is these videos. Do not try this at home.

Fair Use: In the rare instance I include someone else's footage it is covered in Fair Use for Documentary and Educational purposes with intention of driving commentary and allowing freedom of speech.
Show more