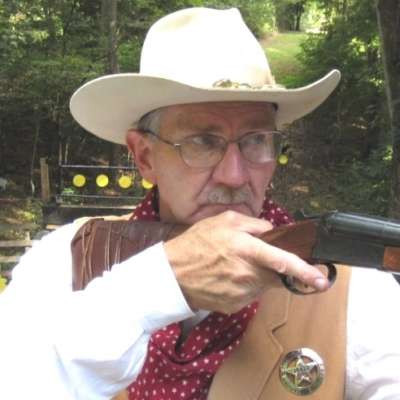 The Hickok45 Song
159 Views
Steve Lee and his daughter Raechel, with help from hickok45 and bigjohn88tn, write a future gold record in just two hours at the kitchen table, "Life Is Good." :-) Lyrics are posted below. Also, if you are a Bob Dylan fan like me, or even if you're not, you'll like Raechel's new song, http://www.youtube.com/watch?v=jhH91EZG6h4 . I'm sure you already know Steve's classic, but if not, click on his channel in my subscriptions or on this link to his song: http://www.youtube.com/user/st....eveleeilikeguns#p/a/
If you'd like to see another "take" on this performance, see the last part of "Deleted Scenes II"
"Life Is Good"

He's spending time with his favorite toys
Just slingin' lead and makin' noise.
All the game down here is made of steel.
The bullets fly and the targets fall,
But the goats and pigs don't mind at all.
Around here the Zombies are the only thing that's real.
Life is good

Chorus:
He shoots more ammo than he probably should
His compound's here in the Nashville neighborhood
In the land of the free.
Life is good
He's always shootin' down in the woods;
Wouldn't leave here even if he could.

Life is good

Now he's cooler than the real Hickok.
This man shoots a Colt or a Glock.
He's never met a target he can't hit.
He loves his Lever and he loves his Bolt,
A semi-auto and his .45 Colt.
But most of his hits are on the Internet.

Life is good

[ Chorus ]

So when you're down in Tennessee
Where freedom is alive
And you hear shot ring from the wood,
It's Hickok 45

[Chorus]

------------------- ------------------------

Please visit the Hickok45.com website and check out what the great folks who support us have to offer: BUD's GUN SHOP, FEDERAL PREMIUM, SONORAN DESERT INSTITUTE, APMEX, TALON GRIPS, & Ballistol: http://www.hickok45.com/supporters/
Please consider becoming a Gong Club member at our Patreon Page: https://www.patreon.com/hickok45
Hickok45 Store: https://www.bunkerbranding.com/pages/hickok45
Federal Premium: http://www.federalpremium.com/
https://www.facebook.com/federalpremiumammo
SDI (Sonoran Desert Institute): http://www.sdi.edu/
APMEX: http://apmex.pub/hickok45
Talon Grips: https://talongungrips.com/
Ballistol: https://ballistol.com/
UPCOMING "MEET & GREETS"
None scheduled at this time.
ALSO, ALL our videos are on GunStreamer.com:
https://gunstreamer.com/@Hickok45
The short FAQ Videos playlist will answer most questions you have.
Find us on Hickok45 Twitter and Facebook, as well as "therealHickok45" on Instagram.
NOTE: All shooting in our videos is done by professional shooters for instructional and entertainment purposes, with an emphasis on safety and responsible gun ownership. Do not attempt to copy at home anything you see in our videos. Firearms can be extremely dangerous if not used safely.
(Note: These descriptions were last updated on 8-7-19).
Show more