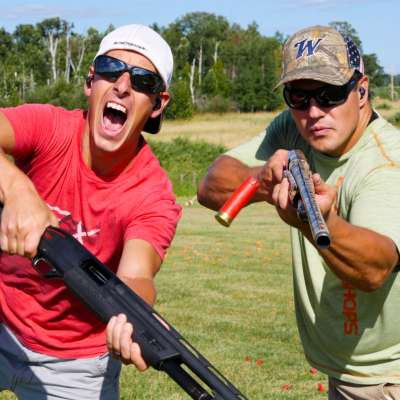 Throw, throw & shoot 3 vs. 1 at the last second - Wk 9 Gould Brothers Shotgun Shoot-Out
283 Views
In this weeks Shoot-Out, Steve starts things off by throwing 2 clays, while the 2 clays are in the air he grabs and throws a third clay, quickly mounting the gun to shoot the 3 clays that have been thrown. Aaron challenges Steve's shot by throwing one clay up and over his head. Aaron waits to turn and shoot the clay until it is just a few feet from the ground. They perform the exhibition shots, you decide which shot is better. Cast your vote at http://www.gbxshooting.com/shootout

Many more videos to come guys. Please stay tuned.

CHECK OUT OUR WEBSITE!
http://www.gbxshooting.com

Like us on Facebook:
http://www.facebook.com/gouldshooting

Follow us on Instagram:
http://instagram.com/gouldbrothersxshooting

Follow us on Twitter:
https://twitter.com/gouldshooting

About the Gould Brothers:
Inspired by the greatest exhibition shooter of modern times, Tom Knapp, the Gould Brothers set out on journey to see where hard work, dedication, and Lord would lead them in the world of exhibition shooting. The road has been an interesting and all but easy one, but their hard work has paid off. The Gould Brothers are now the only two person professional exhibition shooting act in the nation, renowned for perform highly unique and entertaining live exhibition shooting shows for events across the country.

What we do would not be possible without the support we get from our sponsors. Please pay them a visit.

Winchester Repeating Arms: http://www.winchesterguns.com
Winchester Ammunition: http://www.winchester.com
Trulock Chokes: http://www.trulockchokes.com
Otis Technology: http://www.otistec.com
Nordic Components: http://nordiccomp.com
Promatic Trap: http://www.promatic.biz
White Flyer Targets: http://www.whiteflyer.com
Eye Safey Systems (ESS): http://www/esseyepro.com
Sure Shot Exploding Targets: http://www.sureshotexplodingtargets.com

Disclaimer: We are professional marksmen. Our videos are for entertainment purposes only, imitation or the use of any instruction shown in the videos is solely AT YOUR OWN RISK. Gouldshooting will not be held liable for any injury to yourself or damage to your firearms resulting from attempting anything shown in any of our videos.
Show more