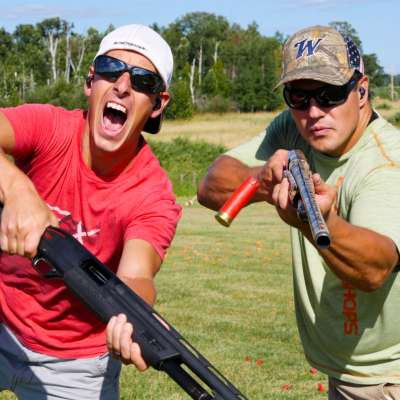 Winchester SXP Pump Shotgun Trick Shots | Shoot N Eject | Gould Brothers
503 Views
Winchester SXP Pump Shotgun Trick Shots | Shoot N Eject: The concept is simple, shoot the shell, eject the shell, and then shoot the empty shell, but like so many of the trick shots we do, we can create many variations to make the shots much more difficult and entertaining. For these shotgun trick shots, we're rocking the Winchester SXP Pump Shotgun.

We're so much cooler online, JOIN US!
► Gould Bros. IG http://bit.ly/GouldBrothersInstagram
► Aaron's IG http://bit.ly/AarongIG
► Steve's IG http://bit.ly/StevegIG
► Facebook http://bit.ly/GouldBrothersFacebook

We take firearm safety very seriously and urge you to ALWAYS follow the firearm safety rules
👇
ALWAYS keep the gun pointed in a safe direction.
ALWAYS keep your finger off the trigger until ready to shoot.
ALWAYS keep the gun unloaded until ready to use.

PRODUCTS WE USE 👉 http://bit.ly/SXPshootNeject

Now pull that trigger and SHOOT for your DREAMS

The Gould Bros.
Show more