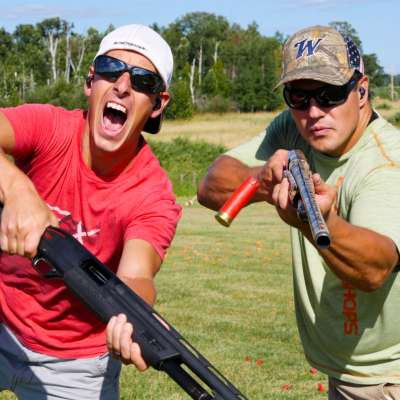 World's Longest Shot on a Flying Clay Target? | Gould Brothers
280 Views
World's Longest Shot on a Flying Clay Target: We've shot clay target with rifles many times, but never beyond 100 yards. In this video, we go long range to see how far our we can successfully snipe a flying clay target out of the air with an AR-10 6.5 Creedmoor from Alex Pro Firearms.

Enter to WIN a $500 gift card http://gouldbrothers.com/apf500giveaway

We're so much cooler online, JOIN US!
► Gould Bros. IG http://bit.ly/GouldBrothersInstagram
► Aaron's IG http://bit.ly/AarongIG
► Steve's IG http://bit.ly/StevegIG
► Facebook http://bit.ly/GouldBrothersFacebook

We take firearm safety very seriously and urge you to ALWAYS follow the firearm safety rules
👇
ALWAYS keep the gun pointed in a safe direction.
ALWAYS keep your finger off the trigger until ready to shoot.
ALWAYS keep the gun unloaded until ready to use.

🎉 💥 Live Exhibition Shooting Shows 💥🎉
The Gould Brothers perform a one of a kind live trick shooting entertainment show that will amaze you with their shooting feats while making you laugh as they share their stories and compete against each other with "brotherly love". http://bit.ly/BooktheBros

PRODUCTS USED 👉 http://bit.ly/worldslongestclayshot

Now pull that trigger and SHOOT for your DREAMS

The Gould Bros.
Show more